Creaform Metra car scan at Riding Cafe
We scanned a 2017 Mazda 2 at the Riding Café in Nonthaburi, Bangkok.
Our tool of choice was the latest model of Creaform's Metra scanner.  This is an amazing scanner with 25 micron accuracy (1/1000 inch) for objects the size of a car.  The Creaform scanner is very fast with 7 laser lines.  We were scanning the car for an accessory manufacturer that makes plastic accessories for hundreds of different make/model of cars.  Here are the steps we do:
1) We scan with the Creaform Metra/C-Track system, and using Creaform VX Elements software.
2) The scan data is then processed in 3D Systems DesignX. Using DesignX we re-draw the surfaces and the output is a Class-A surface in an industry standard STL file.
3) The accessory maker then takes our STL file and will design their parts with precision fit.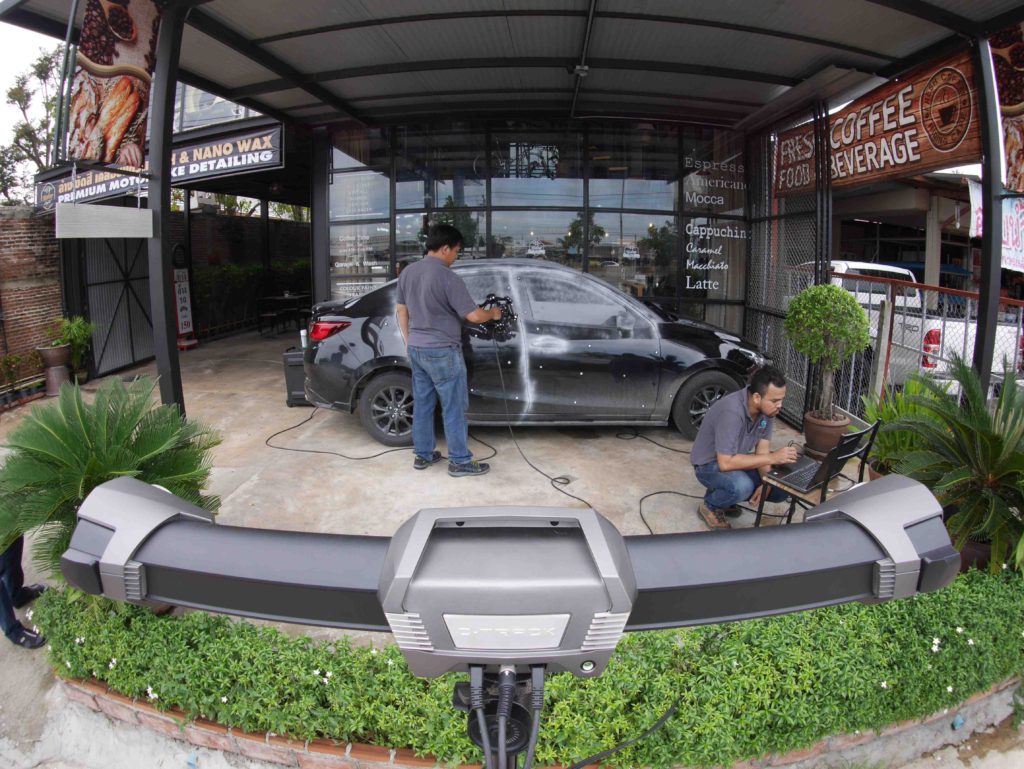 Photo 1: The Creaform C-Track in the foreground, Metra scanner in the background.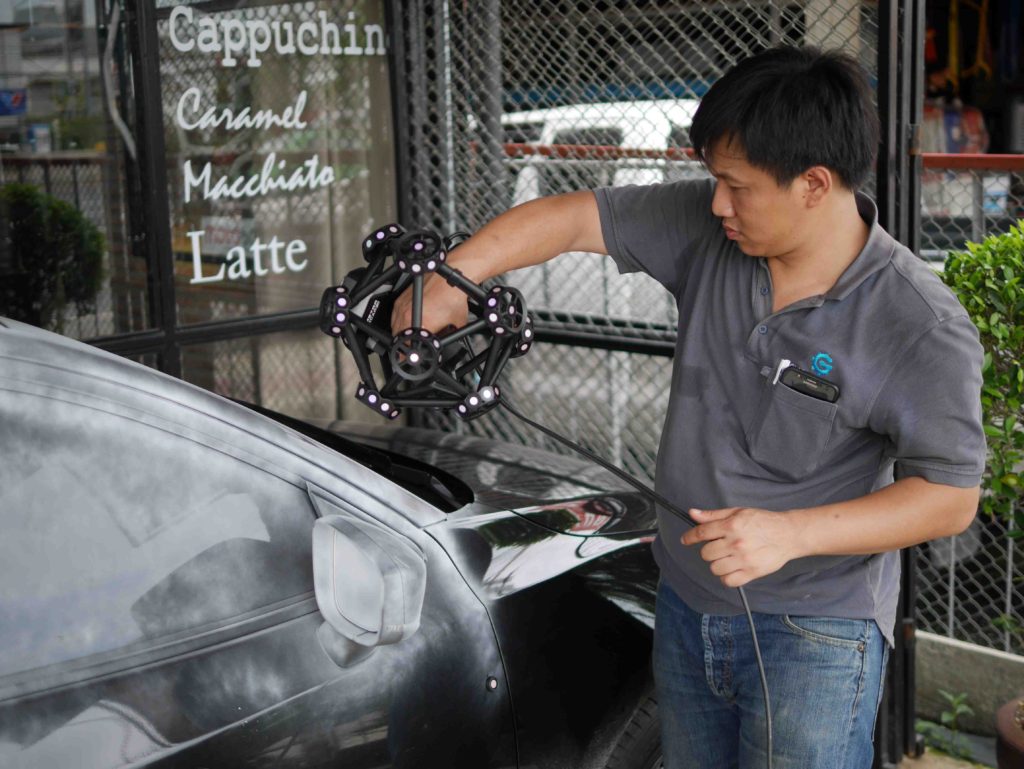 Photo 1: Scanning the A-pillar.
We were at the Riding Cafe last month and scanned a Harley-Davidson 45 frame.  Maybe you missed it?  For your viewing pleasure, I have put a link to the video of it on our Facebook page.  In this video, we use a Faro PCMM machine and their high definition laser scanner.  Different jobs need different tools.
While I was at the Riding Cafe, I decided to take advantage of the sand blaster and glass bead blasting machines.  I have some Harley-Davidson 45 heads that I needed to get cleaned up. They were a pair of iron heads (6 cubic inch; 4.75:1 compression) and a pair of aluminium heads, one that was a 6:1 compression ratio and the other was a 5:1 head modified to be a 6:1 head.
Just to clear up any confusion on compression ratio and Harley-Davidson 45 heads, from reading Bruce Palmer's masterpiece "How to Restore Your Harley-Davidson", the iron heads were marked with the cubic inch volume of the heads, in this case, it is 6 cubic inches.  The aluminium heads were marked with the actual compression ratio of the heads.
Here are some "head shots" of the aluminum head that was marked as a "5" and you can see the milling machine marks on the gasket surface, attempting to make it a "6":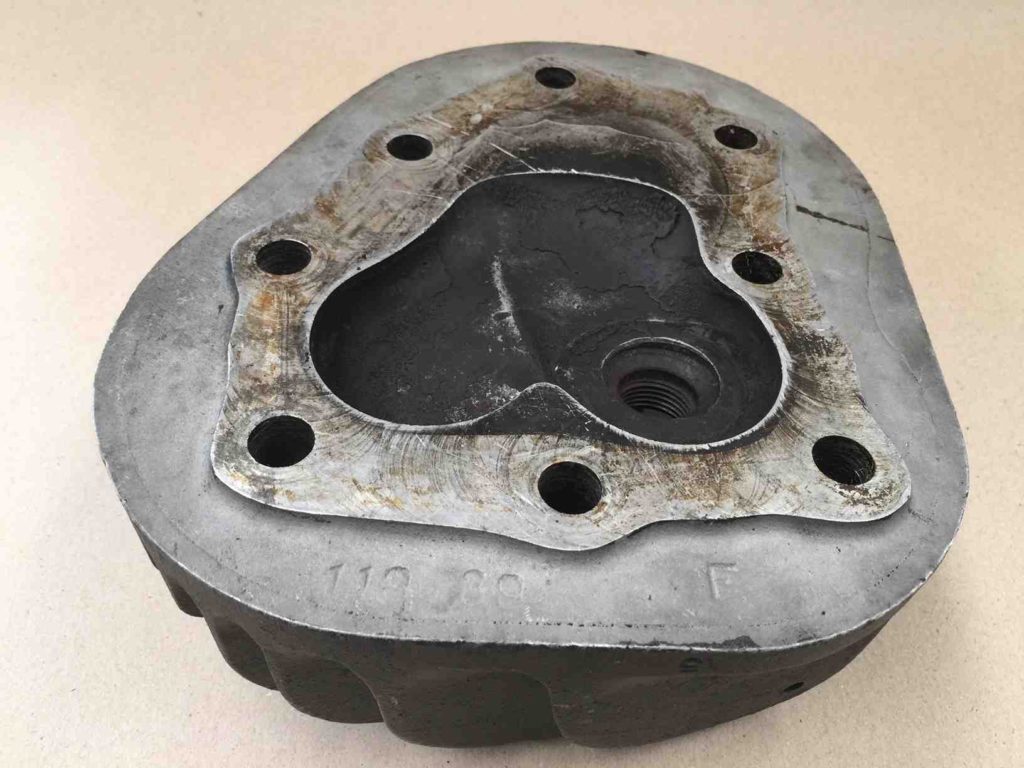 Photo 3: Harley-Davidson 45 cylinder head marked "F" for front and "5" for 5:1 compression.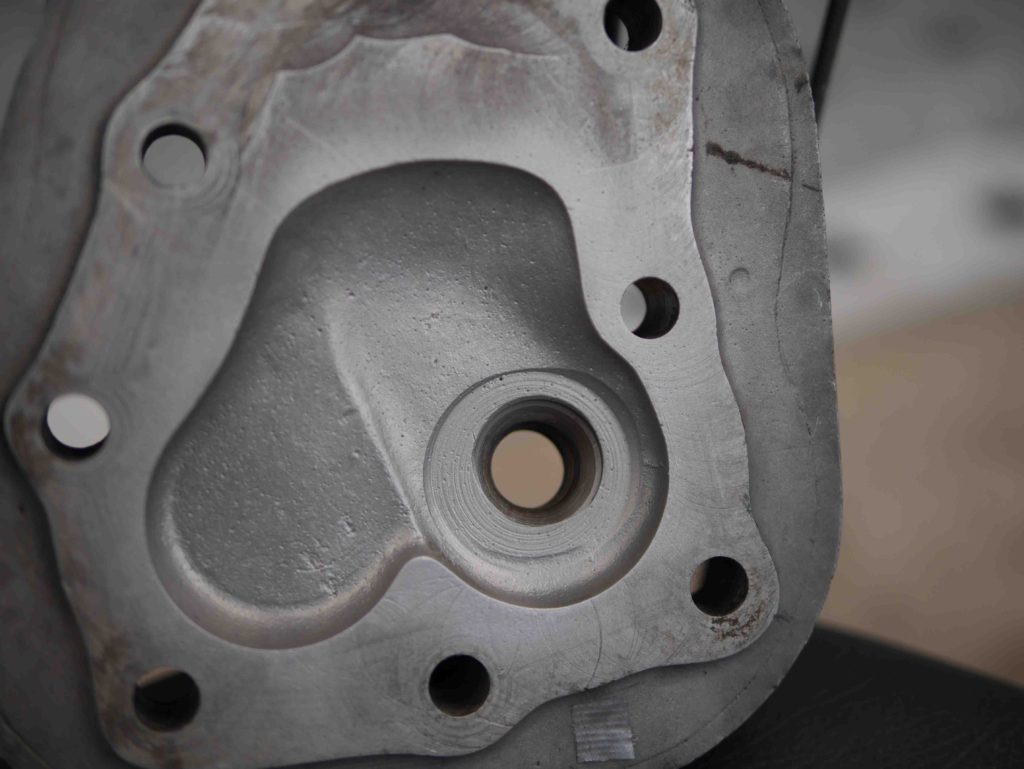 Photo 4: Same head, all cleaned up.
A young man patiently sand blasting.  A classic scene that plays out around the world.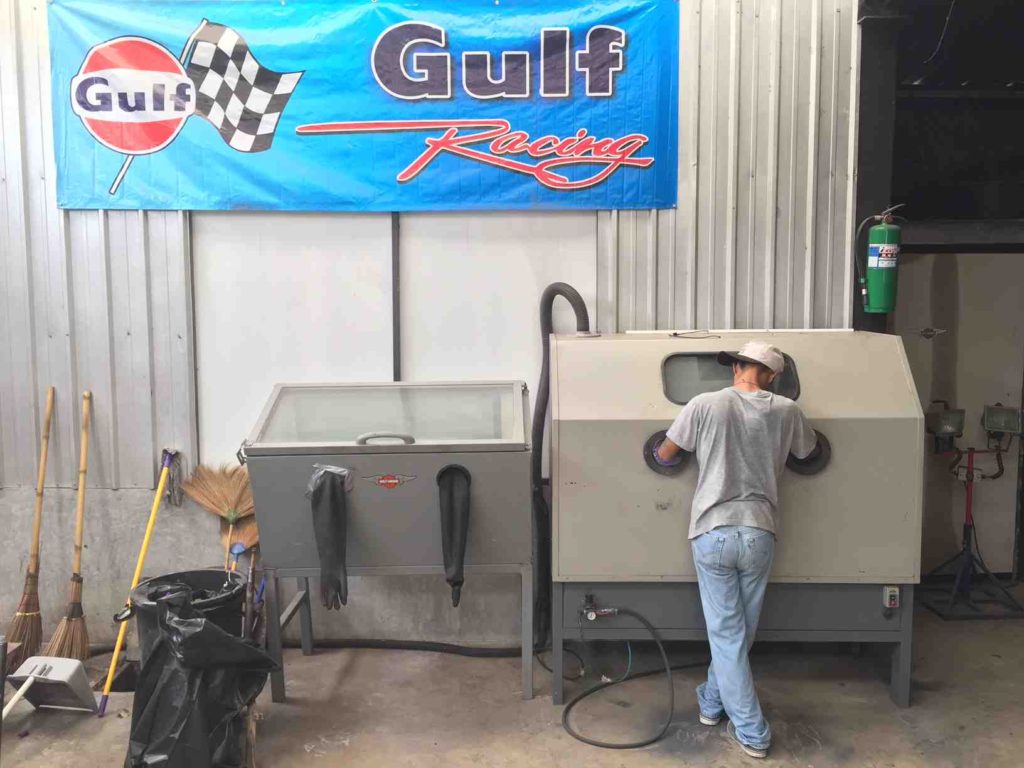 Photo 5: He stood like that for 1 hour!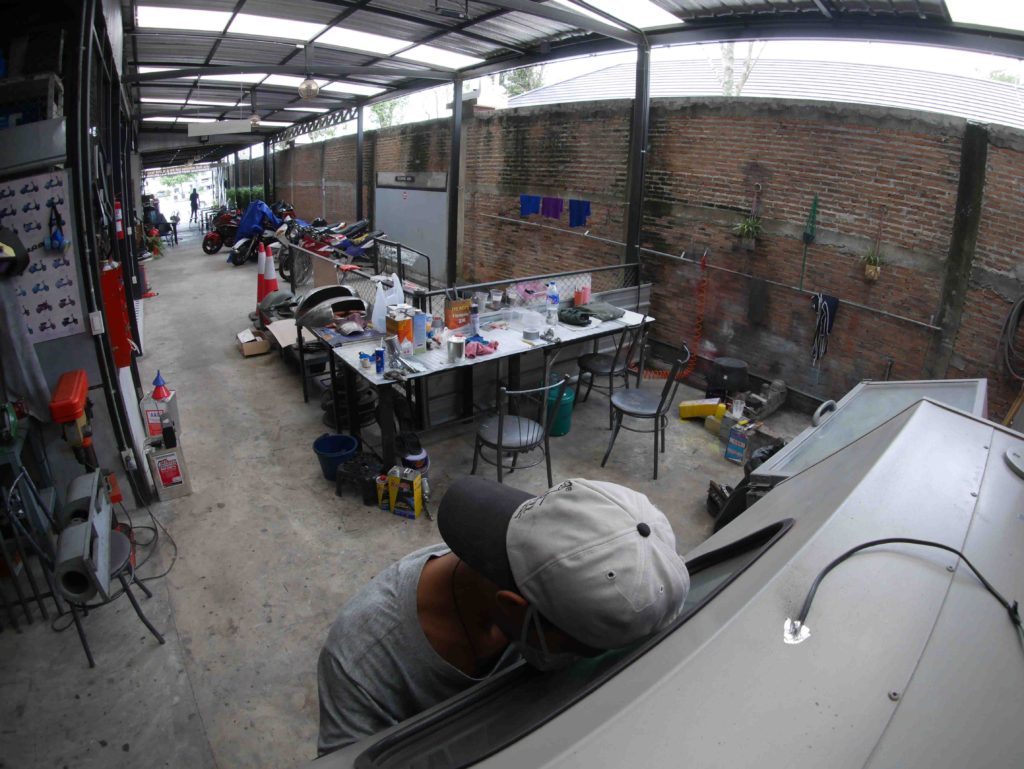 Photo 6: Face planted on the glass.  At least he has a dust mask.
Some of you may remember that we scanned a Harley 45 frame and engine at the Riding Café. The Riding Café is a café, motorcycle accessory shop, detailing service, and can repair and paint many modern and classic bikes.  We very much appreciate Khun Krit's continuing support of Global Dimension.  Here are some nice pictures of his shop and a Harley-Davidson 45.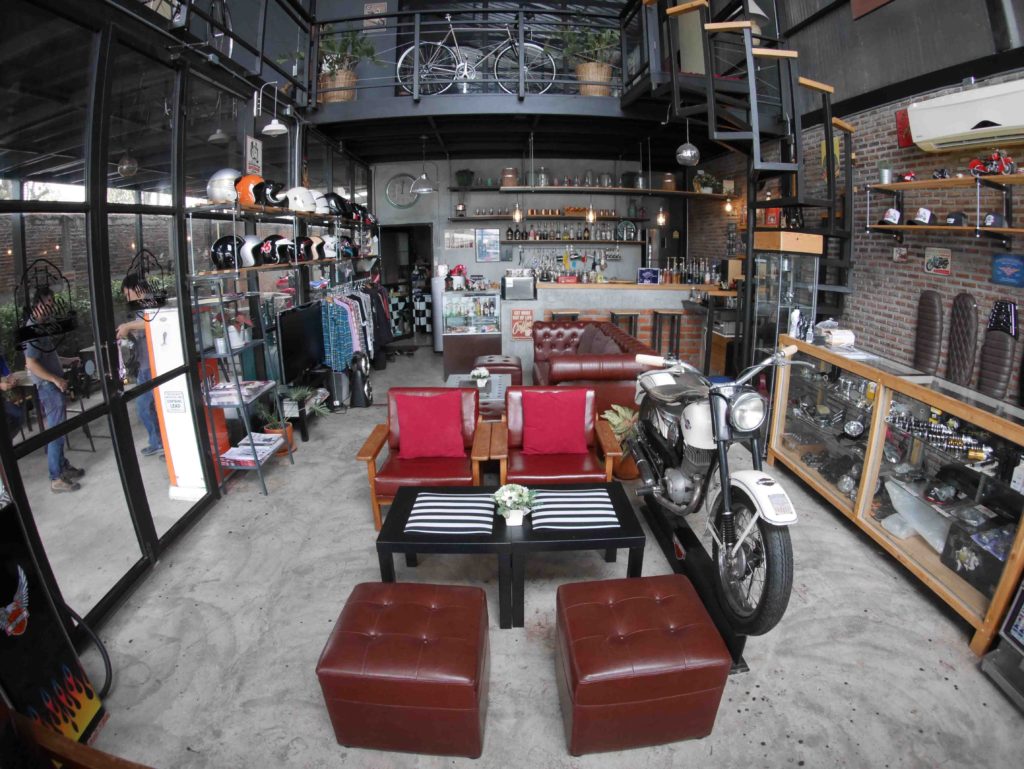 Photo 7: Inside the Riding Cafe.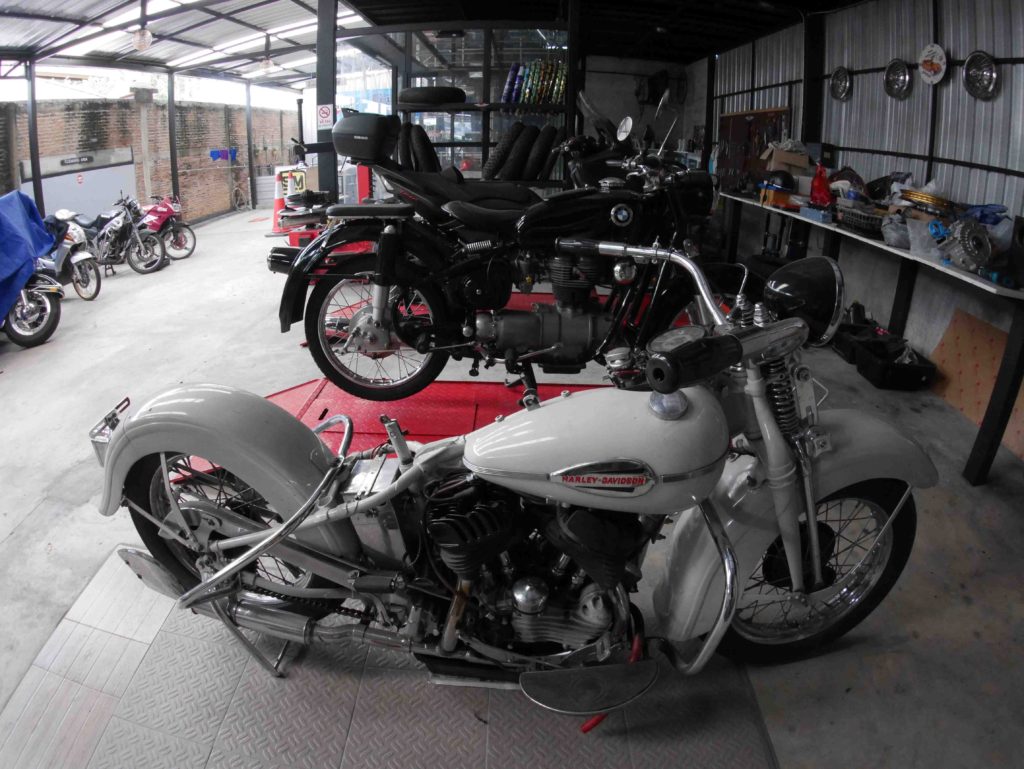 Photo 8: Working on some nice bikes.
Thanks for taking some time to take a look.  Feel free to comment or make suggestions.
Almost forgot, we are on Facebook. Lots of activity there, check it out.