1966 ALFA ROMEO GIULIA – Perugia (part 3)
Perugia? Who goes to Perugia? Why not Florence, Rome, Milan for Venice?
I have always loved the middle of Italy. The walled cities. The wheat fields. The friendly people. The colour of the sky. I just think this is a beautiful place.
If you have not seen our other articles on our trip from Athens to Amsterdam, please take a look. Just to remind everyone where Perugia is, we have made a little map. You can see these other 'road trip' articles right here:
1966 Alfa Romeo – Road Trip
1966 Alfa Romeo – Vesuvius and Pomepii
1966 Alfa Romeo – Pisa and Manarola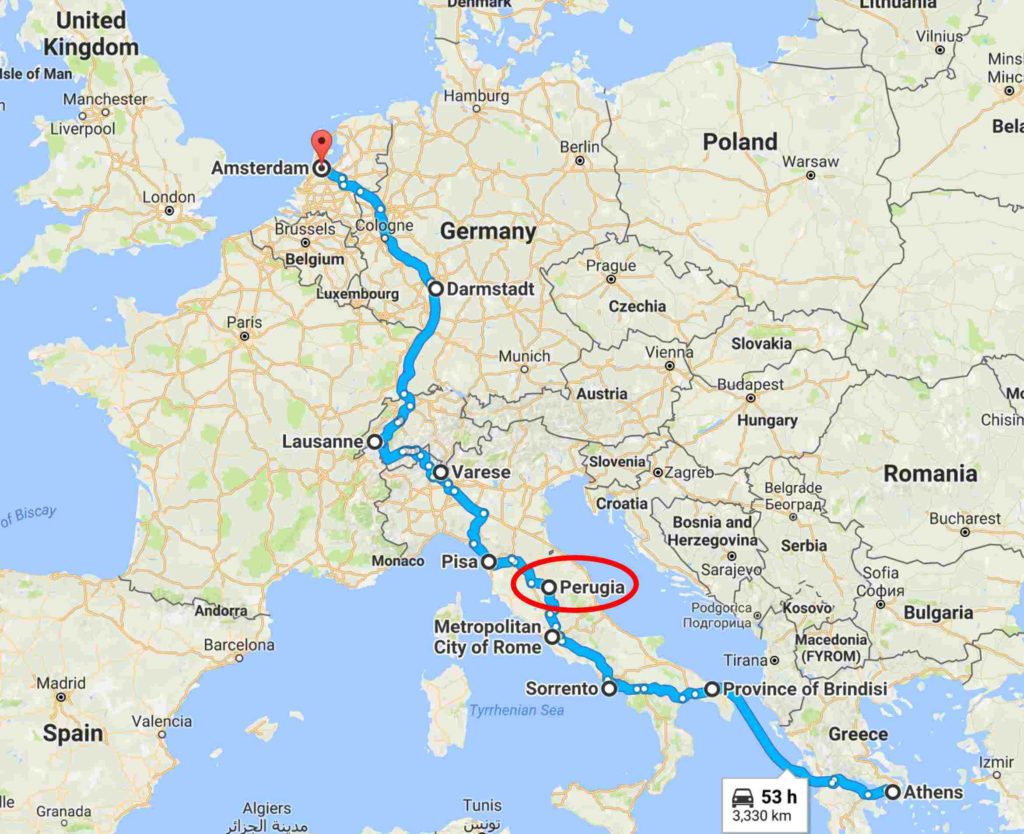 The drive from Sorrento to Perugia was uneventful, except that it rained a bit. The good news is the windshield wipers do work. Happy about that. Jake slept for much of the drive, and the 5 point racing harness holds him firmly in place.
We didn't really do very much in Perugia, but relax. So the highlights are the great place we found to stay (Anna's Inn/Albergo Anna), walking around the city, and a great lunch we had in the countryside. You tell me if the place is any good, OK?
First stop, is Albergo Anna. Anna is a nice lady most likely in her early 80s. Albergo Anna is an entire floor of an old building that was her family home, but she converted it into 10 rooms for rent. Her personal items are everywhere. No elevator to the third floor, but the walk is easy as the stairs are wide and roughhewn from large slabs of stone. The rooms are simple and wonderful. A cool breeze blows constantly throughout the entire place as she keeps all the windows and doors open, as much as possible.
When we check in, Anna was super excited. 'Is that your Alfa Romeo Giulia? Please come and look at my Alfa Romeo Berlina!!" She showed us a picture on the wall of her participation in a rally in 2004. Kindred spirits. It made all the difference.
Here is an idea of the reception room; it is a place I could nap all day in.
Breakfast is in another decent sized room. But, as you can see in the pictures, it is like eating at Grandma's house when she is expecting 20 people.
The rooms are great – see how wonderful our room is? Light and airy? Porch with a table and umbrella with an incredible view.
Wake up time! We booked 24 hours before we arrived and got a GREAT room (no kidding), but it did not have the balcony. I loved this room. Aey was a whirling dervish and washed all the clothes in the sink and laid them out to dry. Check out Jake in the bed, he is completely oblivious to it all.
Parking is either out front of the building at a metered open lot, or about 20 meters way in a small parking garage. The parking garage is 'funny' in that is run by one man, and he has odd hours when the garage is open and you can take your car. This is part of the charm. I used the garage, the public (paid) parking and parking right on the street (free). All of them within 20 meters of the front door of the hotel.
This first photo really sums up how great Anna's place is, and how close the public parking is.
The city? It is just a maze of allies and shops. Some of them are high-end fashion. Some are woodworking shops. Really great to see it all working so close together, with no apparent zoning.
The city is a "walled city" designed to protect it from invaders. It is built on a hill to give it more protection. We get wonderful views.
There was amazing food for every meal. But one meal at a wood oven pizza place was especially nice for Jake, as the served Nutella pizza.
Perugia is a wonderful and magical place. I hope you feel the same way.
[irp posts="583″ name="Creaform Metra car scan at Riding Cafe"]