1966 Alfa Romeo Giulia – Athens to Amsterdam (Athens segment)
We all have things on our 'bucket list' and driving around Europe in a classic car has been on the list for a long time. My first car I bought was a 1967 Alfa Romeo basket case when I was 17, and at 53 I bought another. This time around it is a 1966 Alfa Romeo Giulia 1300 TI, located in Greece. Wife and 7-year-old would be along for the trip. The plan is to drive from Athens to Amsterdam over 2 weeks. 3300 km (2100 miles). Crossing the Alps at 4000 meters. We will see friends along the way. We will hit major tourist attractions.
I saw the car on BAT (www.bringatrailer.com) and participated in the auction by asking questions and bidding. But the reserve was high, so it did not sell. I immediately emailed the seller and said I was interested. Antonis called and we struck a deal a minute later. Antonis is the BAT user 'ClassicSpotted'.
During the bidding process, I asked about how an American, with American/British/Thai driving license, domiciled in Thailand, could get the car registered in my name and get insurance for a drive around Europe. Antonis's friend Alex (also very active on BAT and is called Alex V) said it was easy and he did it for a previous 1967 Lancia buyer a few years earlier using 'German Export Registration'. There is a system in place that allows you to buy a car and drive it around for a year, with insurance, as long as you export it at the end of the process. They sent me the website (www.export-plate.com), I filled in the forms, and all was looking good. But the good folks in Germany changed the rules and my car was not eligible! Gulp. The car was too old (51 years old), and the rules now say you must have a TUV certified inspection (German), but the car is in Greece. It was a bit of a let-down to find out the car was not eligible after 2 weeks of daily calls and paperwork being sent back and forth to Germany. Effectively www.export-plate.com now only works for cars located in Germany.
[irp posts="944″ name="1966 Alfa Romeo Giulia – Vesuvius and Pompeii"]
I had bought the car, being sceptical about the registration process. I was told it was going to be easy, then finding out it was impossible (almost). Am I having fun? It is now 8 days before I arrive in Greece, and I have no legal means of driving. Wife, son, and the weight of the world is on my shoulders. Antonis (seller) was extremely helpful. We investigated a process of me starting a Greek company, putting the car in the company and making magic happen this way, but it just takes too long.
Just 2 nights before my getting the family on a flight to Greece, I still have no legal means of driving this car, Antonis sends me a message saying he just went to dinner with someone and this person knew of Greek export tag process, just like Germany export tag process. With fingers crossed, Antonis springs to action and starts the process. Now it is Friday, I take my Bangkok-CDG-Athens 24-hour flight on Saturday, landing on Sunday, and hoping for the best on Monday.
Antonis made the miracle happen. Beautiful car registration papers in my name were given to me on Monday. But where is the insurance? Oh dear – constant calls to the insurance company produce the needed paper on Tuesday, about 10 minutes prior to me starting out our epic journey. Plenty of time to spare, right? I live in Thailand, so I get used to last minute fun.
Before we set out on the road, I had asked Antonis for a few small modifications, such as seat belts in the back seat. I brought with me a third brake light the company I work for designed, and this Alfa would be its test bed. Cigarette lighter with 2 USB ports was needed to run modern conveniences like iPhones. I will go into details on another article on the seat belts and 3rd brake light project, both are worthy of their own articles. Just a hint at how cool the seat belts for my son worked, we installed a 5 point Takata racing harness – worked great. Like our Facebook page and you will get notified when these articles get published. https://www.facebook.com/GlobalDimensionDesign/
[irp posts="699″ name="Reverse engineering an Aermacchi CRTT tank"]
Working on the car with Antonis team was fun. These guys obviously know their way around a wrench. They had great coffee. Nice hydraulic lift. Good tools. Lots of knowledge.
[irp posts="990″ name="1966 ALFA ROMEO GIULIA – Perugia (part 3)"]
Seat belts, oil change and new battery. We also added a 3rd brake light that was tiny and super bright, and Global Dimension designed it.
Of course, the trip is not all cars-cars-cars. Since we landed at 23:00 (11 PM) on Saturday, we did get quite a bit of tourism and fun on Sunday. Aey and Jake also had Monday to themselves, while I worked on the car all day Monday.
Let's start with our accommodations. The Jason Inn was a humble hotel with an amazing rooftop breakfast and bar area. It is located within an easy walking distance of the Acropolis. Of course, we made it to the Acropolis. Leading to the nice area is some graffiti, but it is fun. Shopping streets of Plaka and wonderful food at hillside restaurants. We had a great time.
[irp posts="1002″ name="1966 ALFA ROMEO GIULIA – PISA & MANAROLA (PART 4)"]
The Jason Inn has a great rooftop view of the Acropolis. We arrived at the hotel at 1 AM, so we got a nice view of the Acropolis all lit up.
The Jason Inn had very nice breakfast, and of course, great views. Jake loves Nutella, so you get a nice Nutella smile from him.  You will see that Nutella is an important food for Jake.
Some slightly rough area between the Jason Inn and the Acropolis/Plaka area, so we get a lot of graffiti.
The Acropolis, such a magical place. Very crowded! It was 39C (102F). We were sweating a bit.
Eating out, hanging at cafes, and seeing all the cool places was amazing. You will see a constant dinner and breakfast theme of the Acropolis looming large in the background.
The hills around the Acropolis and Plaka are full of wonderful cafes, shops, and other distractions!
With all the fun of Athens,  I almost forgot we need to get on the road and go to Italy. From Athens, we need to get to the ferry at Patras (3-hour drive, then sleep on the overnight ferry), landing in Brindisi early in the morning, to making our way to Sorrento (4-hour drive).
[irp posts="637″ name="Reverse engineering an Aermacchi CRTT frame"]
We booked a 17:00 (5 PM) ferry from Patras to Brindisi, Italy, landing at 08:30 am the next day. These ferries are big, hold trucks, cars, cargo and people. We booked a 4-bedded room, so we could get a good night's sleep.  The Alfa Romeo was running pretty good.
The website says we are to get there 2 hours before departure, so we needed to arrive at 15:00. We give ourselves 4 hours for a 2.5-hour journey. The journey from Athens to Patras was mainly on the highway, but the highway was under construction in 3 different places, so we took detours. Miserable detours. Stressful detours. Giant trucks on dusty road detours. No sign detours. Stress was setting in. 1966 Alfa Romeos are pretty hot inside in traffic jams.
My lovely wife and I looked at each other and said: "I bet the 2 hours before departure check-in process is not real, just like how Emirates airlines always announce 'last call' even before the first passenger has boarded, just to get the folks to the gate on time". Saying that sentence was a hope and a prayer to diffuse the situation. There was still a bit of high-speed highway driving,  and some fast driving on bumpy back roads.  We were hoping Greeks were not too punctual with ferry departures.
We did eventually get to the ferry at 16:00 (4 PM), about 1 hour before departure. We found the check in booth, got our tickets and then drove onto the mammoth ferry. We were still worried we were holding up the ship's departure. With tickets in my hand, I join the queue to get on the ferry.
The departure was set for 17:00 (5 PM). At the scheduled departure time, cars and trucks were still boarding. Nobody seemed to be in any hurry. Again, Greece and Thailand have some striking similarities. In Spain, it is mañana. In Thailand is it mai-pen-rai. In Greece, it is just a shrug of the shoulders. We push off at 19:00 (7 PM).
The ferry was great. Plenty of different lounges, seating, casino, and other distractions.
The room was great and made all the difference. 4 bunk beds. When you book the accommodation, you can book one bed and share the room with 3 truck drivers. We decided on a bit of luxury and booked the entire room. Jake loved it. Sitting in the portal window, writing in his journal. Brown smudge on his cheek is Nutella – again.
We wake in the morning quite early and grab some coffee and stale croissants. Fine. No problem. It is approaching 08:30 and there is no sign of land. Ok, we departed late, so we will land late. The captain finally got us to the dock at about 11:00. Nobody on the ferry seemed to notice we were 2.5 hours late. I guess everyone's on holiday.
We land in Brindisi. Fine day. Sunny.
We got lost on some roundabouts trying to leave the port and wasted a bit of time. Our target of Sorrento is a 3.5-hour drive – do we keep believing the GPS?. We stop for some lunch at a small village in the Italian countryside.
The journey on this segment was uneventful until we are about 7 kilometres from our hotel in Sorrento, where traffic stood still in a very long tunnel for about 1 hour. Do I need to remind you that Alfa Romeo did not install air conditioning in their cars, so we sat in a hot tunnel on a 39C (102F) degree day. The great news is the car water temp does not change from highway driving to being stuck in a tunnel. One needs to find good things like this, to stay positive.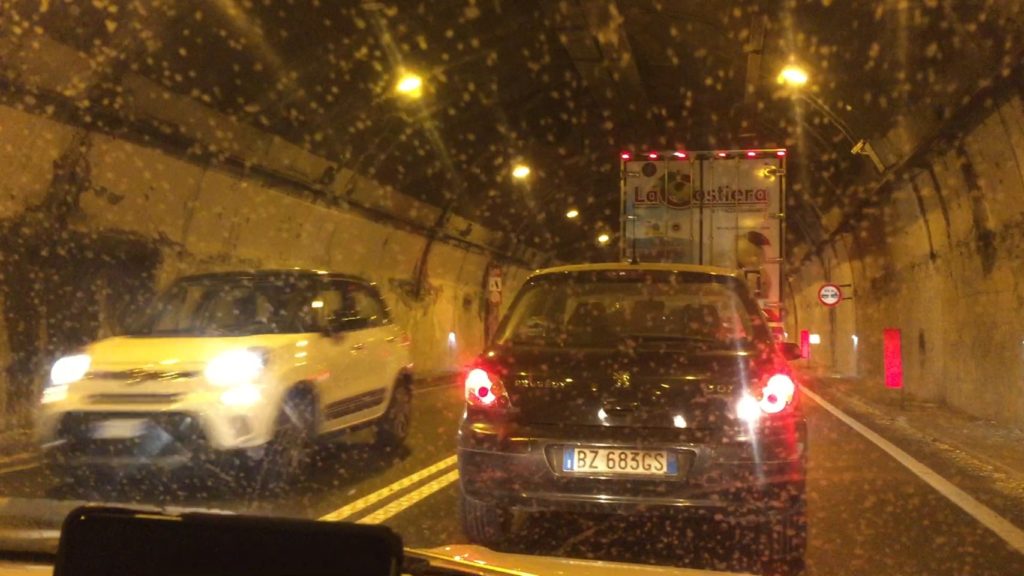 When we entered Sorrento, we took an opportunity to pull over and enjoy the view.
Eventually, we make it to the hotel in Sorrento. The Hotel Gardenia. Decent place. Awesome breakfast.
Love little Alfa Romeos.  They are getting old. They are a lot of hard work. Things break. Things don't close the way they should. Thing squeak. Things rattle. You are constantly listening to the car, and diagnosing the car. Be Zen chilled and it can work. Lose your positive attitude, and it is over.
Our next instalment will be a good adventure to Mount Vesuvius and Pompeii. Of course, LIKE/FOLLOW us on Facebook. See you soon. Of course, you can always sign up for the newsletter, located on the right side of this page.
[irp posts="583″ name="Creaform Metra car scan at Riding Cafe"]