3D scanning a sacred Buddha
We had the great honour of 3D scanning a Buddha at Wat Tarn Ain (sometimes spelt Wat Tan En), Ayutthaya, Thailand. The Wat will make replicas of this Buddha.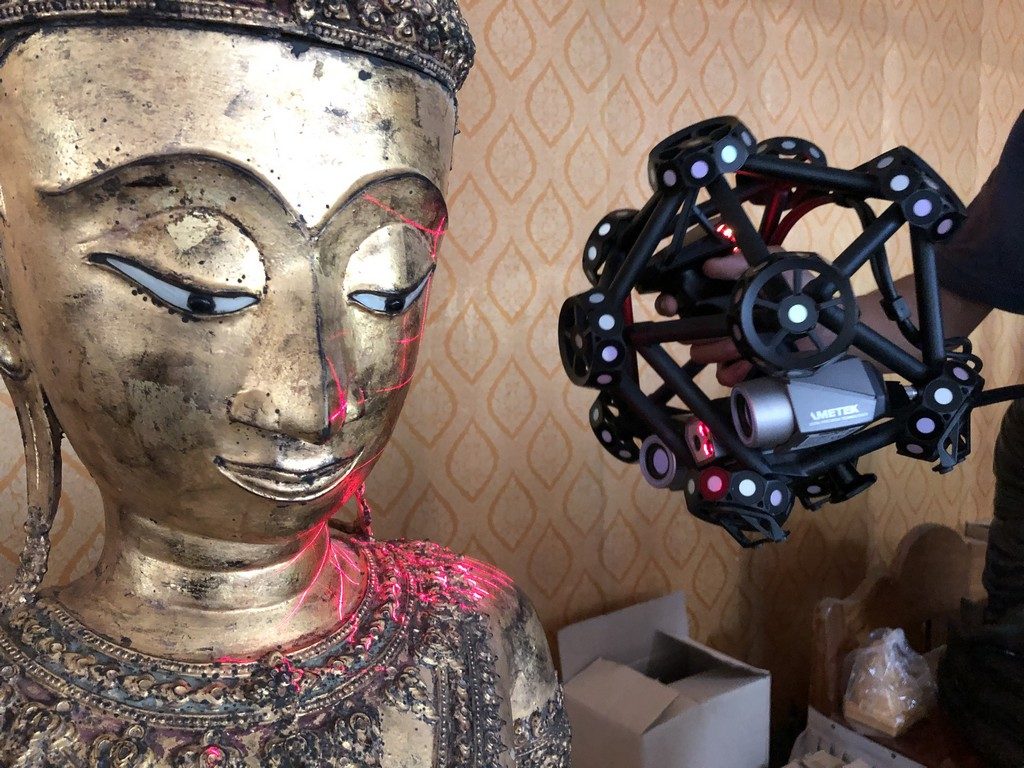 The history of this Buddha is not completely clear. This Buddha statue "Luang Por Krab" was presumed created during the reign of King Prasadthong in B.E. 2185 (A.D. 1640). This Buddha has been in its current location for 80 years.
It is difficult to have an exact history of some temples. The Wat Tarn Ain was presumed built in the Ayutthaya period, because of statues and other buildings located on the Wat date from that period. The Ayutthaya period is over 400 years ago, but according to the documents of the National Buddhism, Wat Tarn Ain Monastery was built in B.E. 2360 (A.D. 1814) during the reign of King Rattanakosin and was officially granted the land by Royal Decree in A.D. 1828.
The Wat Tarn Ain is located at Moo 1, Tambol Tarn Ain, Bang Pahan district, Phra Nakhon Si Ayutthaya Province. It can be found at this Google map location: https://goo.gl/maps/gKSFMgVqK9T2
The tools we used a Creaform Metra and Creaform Ctrack scanner system. The software we use is Creaform's VXElements and 3D Systems tools such as DesignX, Wrap and others.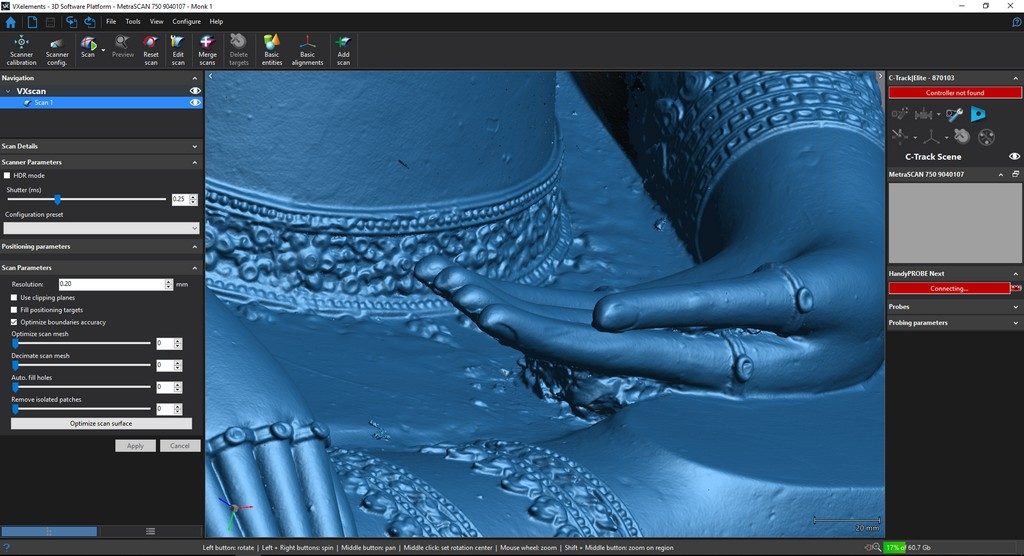 Very nice data displayed in Creaform VXElements software.
We loved working at Wat Tan En, as the Buddha was sublime and the monks we met were very kind. We hope to come back and see the replica Buddha they will make. Please sign up for our newsletter, or "like/follow" us on Facebook at https://www.facebook.com/GlobalDimensionDesign
++++++++++++++++++++++
If we can help you with any engineering/CAD/scanning, we will give a special price to anyone into old Volkswagens, old motorcycles, and other fun things.
We feel your passion. We love what you do and will do our best to support you.
Our location is in Downtown Bangkok. Sukhumvit Soi 3, near Bumrungrad Hospital. The BTS is Nana or Ploenchit. We are easy to find at these friendly links:
Facebook: https://www.facebook.com/GlobalDimensionDesign
Instagram: https://www.instagram.com/globaldimension3d/
Website: https://www.globaldimension.com/blog
Location: https://goo.gl/maps/jWRsCP3fH2K2
LINE: @global_dimension
Phone: +66 (0)2 253 2271
#3dprinting #3ddesign #3Dscanning#3Dscan #Reverseengineering #globaldimension #Solidworks #catia #3Dsystems #Geomagic #FaroARM #Creaform #Creaform metra #C-track# ctrack #cnc #cncowners #globaldimension3d #sculpture #Buddha