Judson air cleaner cap
When working with antique cars, motorcycles, aeroplanes, it is extremely important to capture the "character" of the part. Today we are looking at the Judson Supercharger air cleaner cap and we show a few examples of when to leave imperfections in place to better preserve the original character and feel.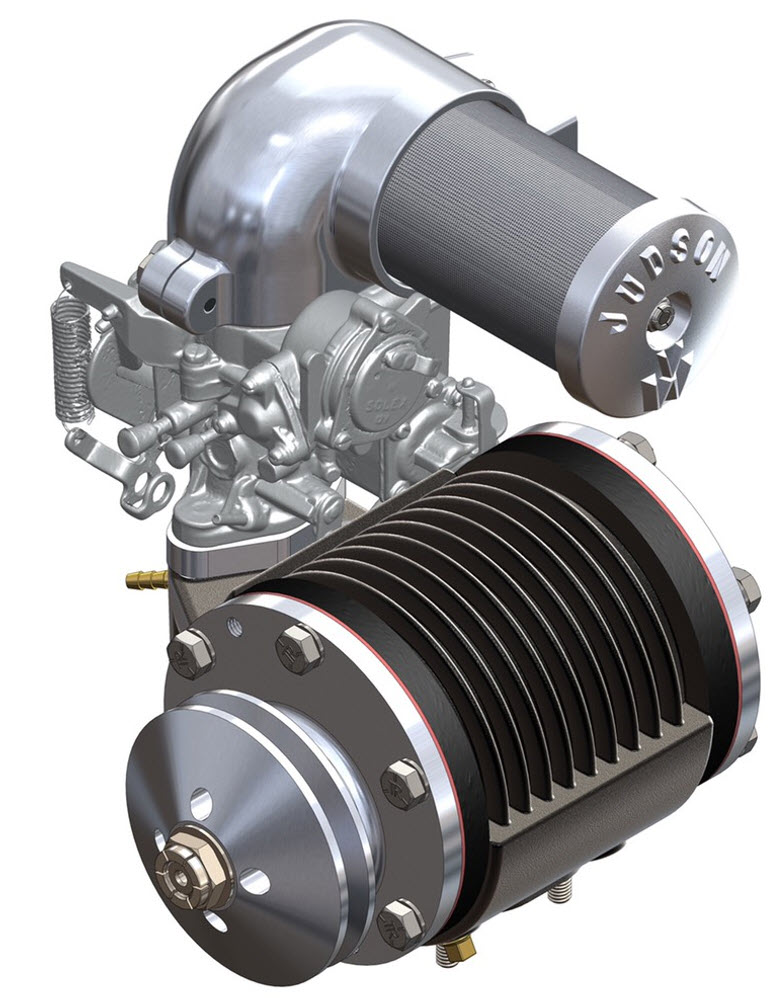 When reverse engineering with scan data or just a simple vernier, the CAD software pushes the draftsperson to use pre-packaged radii, geometry and fonts. Many times, the old parts were created using handmade patterns, that are typically a little less accurate than modern CNC created patterns. Handmade patterns have organic shapes and curves that are not easily recreated in a typical CAD application. These very delicate shapes define the character of the old part, and they need to be recreated faithfully. There are custom curves that can be produced in CAD packages to match any shape, so anything can be faithfully re-created. But using these extended CAD features are hard to use and are only used by extremely specialised CAD experts. The average CAD user rarely (if ever) would use these advanced features.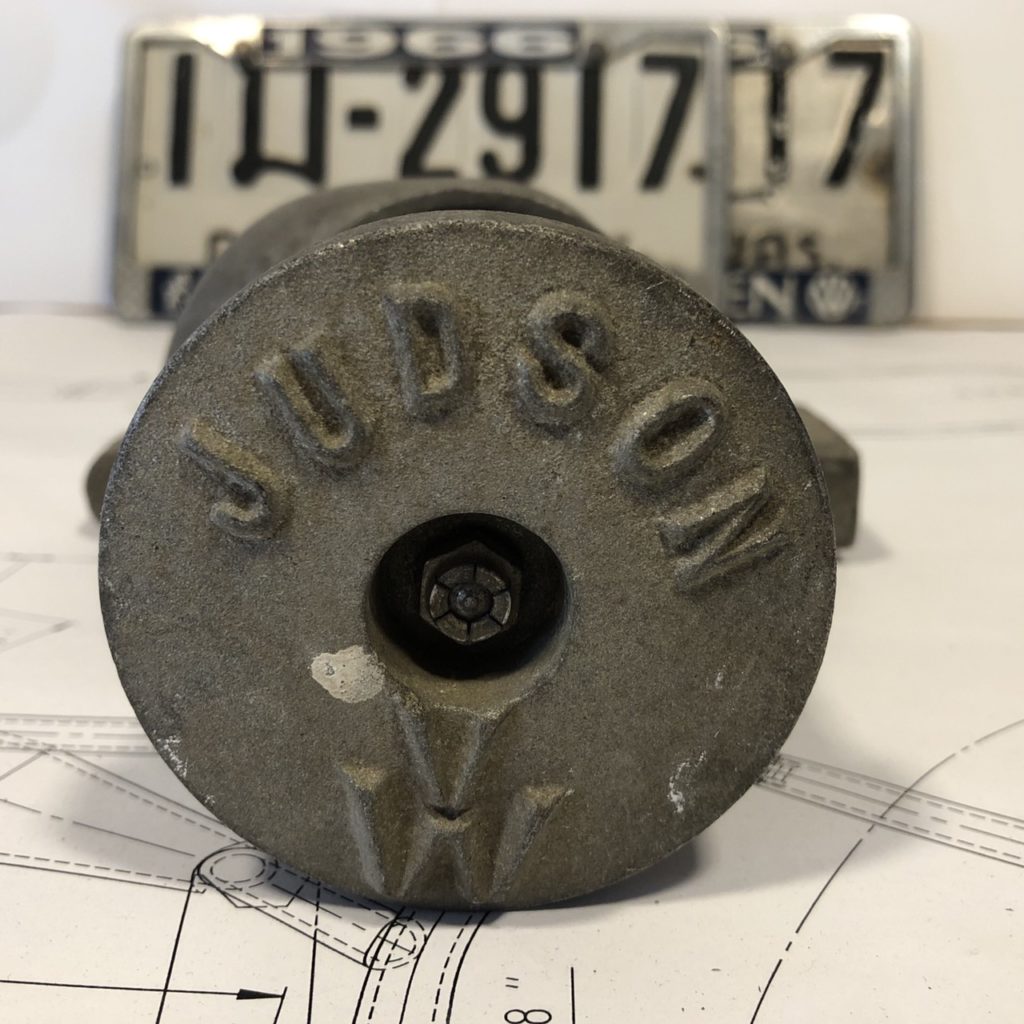 In this Judson supercharger air-cleaner example, we can clearly see the Judson company name and the VW logo. But if you look closely, the lettering for 'JUDSON' is not evenly spaced around a circle. Some letters are higher than others, some letters tilt at different angles. In our example picture, we drew a guide circle that just touches the lowest letter "U". All the other letters are above the circular line, with varying distances (see Figure 3). The CAD draftsperson that specialises in antiques must see these differences and not make the reproduction part perfect, they must include the cosmetic flaws and irregularities of the original part.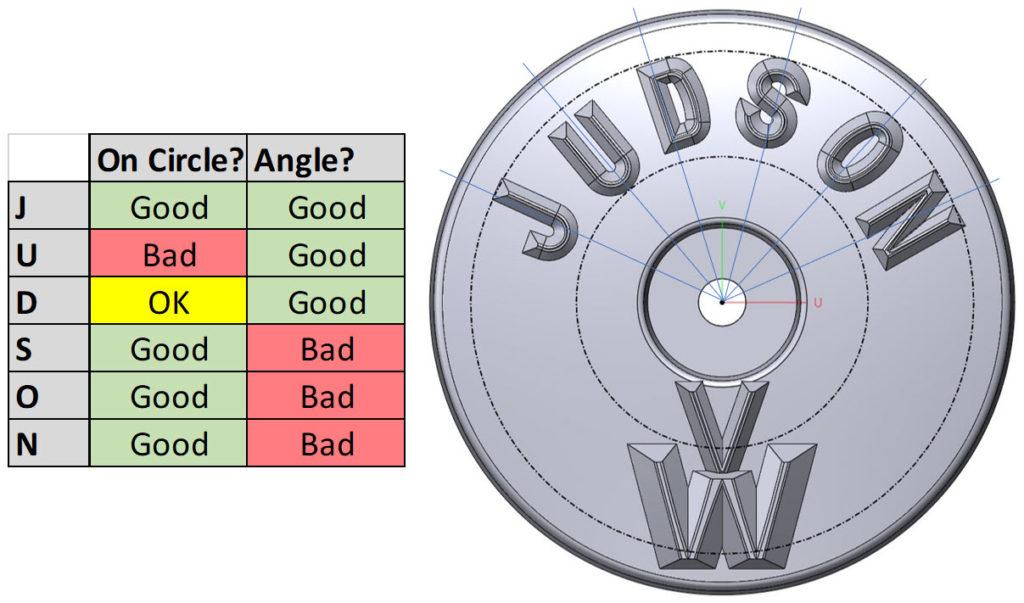 We had to hand create these letters, as there were no standard letters that looked like the original font and character. We need to clean up the letters 'S' and 'N' in the Judson name, because we can see we need to open those letters up a little so they do not get too filled in during the sand casting process. See figure 4.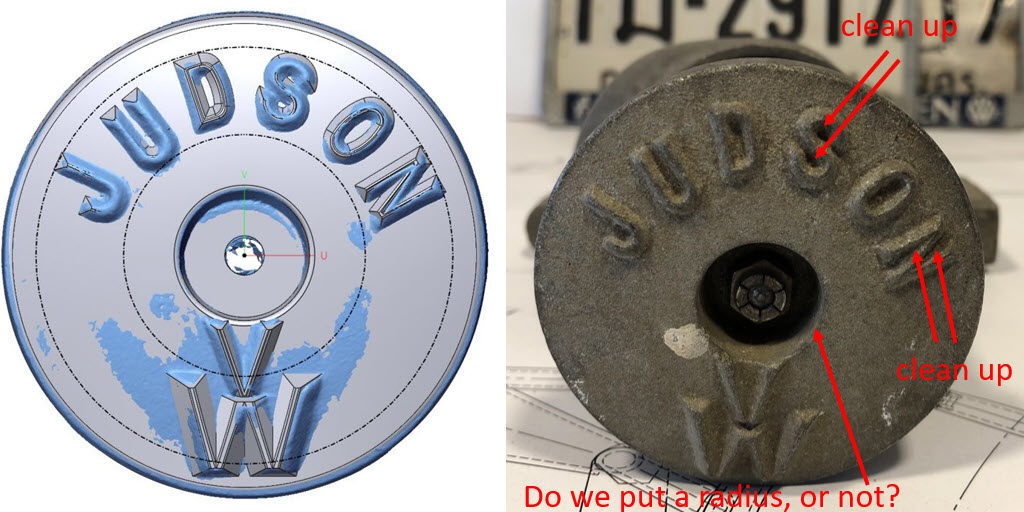 Judgement needs to be made regarding what to make perfect, and what to leave original. For this example (see figure 4), we cleaned up the surface that the letters sit upon. In figure 4, the left-hand side picture shows some remnants of a high surface on the original part, shown as the irregular shaped blue surface. We decided to remove that high surface. There will be enough new character added to this part in the sand casting process, that will add back some of the character we remove when making the surface perfect. If we left the surface imperfect and sent to the CNC pattern making machine, the additional surface irregularities that occur in the sand casting process would be amplified and make the part look too rough. Judgement is needed when to fix something and when to leave it alone.
The centre hole on the air filter cap is also an area where we question, do we fix or leave alone? The original Judson has a very sharp edge on that hole (see figure 4). On our draft CAD version you see in the article, we put a small radius that most draftspeople would just automatically place on their drawing. Would you put a radius, or would you leave sharp? I would tend to leave it sharp, just like the original.
With a computer, you can see things not easily discernible by the human eye. In figure 5, we show a powerful feature of 3D Systems DesignX software called '3D compare'. It allows us to see how different the original part (scanned data in blue) and our new CAD part (in light grey). The scale is in millimetre, so all the green and yellow are less than 0.25 mm variance. The orange and red areas indicate a range of 0.5 mm to 1 mm difference because we cleaned up the 'as-built' casting errors in those areas.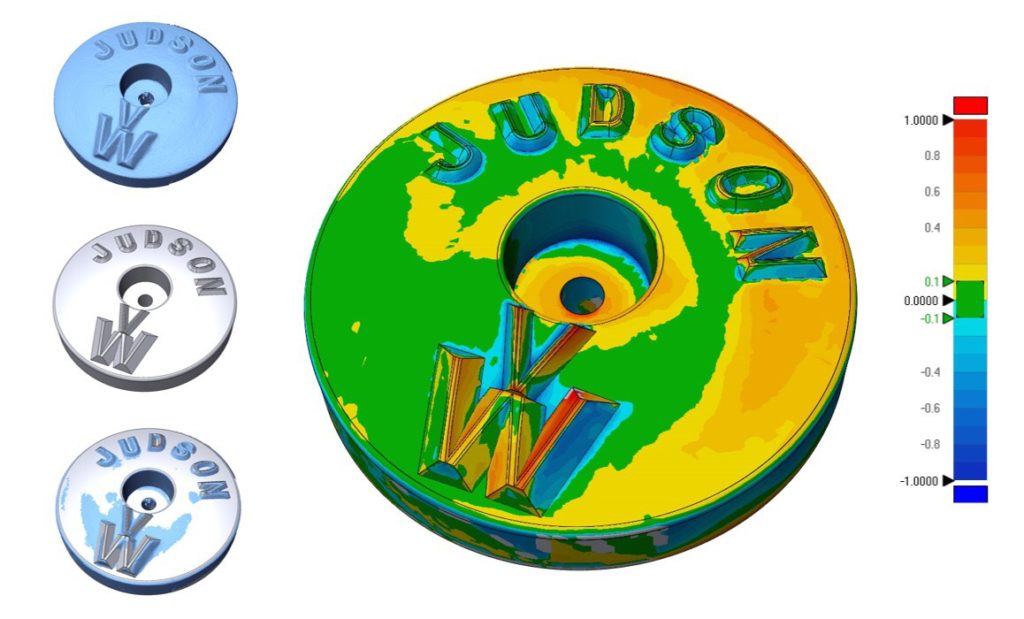 Does anyone know a part number for this air cleaner cap?
There is a world of difference between a handcrafted CAD drawing, and the usual low-cost drawings that are great for modern parts but not great for antique reproductions. If you need help with your classic project, feel free to contact us. We love this stuff.
SEE YOU SOON…
If we can help you with any engineering/CAD/scanning, we will give a special price to anyone into old Volkswagens, old motorcycles, and other fun things.
We feel your passion. We love what you do and will do our best to support you.
Our location is in Downtown Bangkok. Sukhumvit Soi 3, near Bumrungrad Hospital. The BTS is Nana or Ploenchit. We are easy to find at these friendly links:

Facebook: https://www.facebook.com/GlobalDimensionDesign
Instagram: https://www.instagram.com/globaldimension3d/
Website: https://www.globaldimension.com/blog
Location: https://goo.gl/maps/jWRsCP3fH2K2
LINE: @global_dimension
Phone: +66 (0)2 253 2271
#3dprinting #3ddesign #3Dscanning #3Dscan #Reverseengineering #globaldimension #Solidworks #catia #3Dsystems #Geomagic #FaroARM #Creaform #Creaform metra #C-track #ctrack #cnc #cncowners #globaldimension3d #sculpture #Buddha #Volkswagen #Judson #Judsonsupercharger #supercharger #engineporn